Over
patients treated to date with medical devices validated at IMMR!
---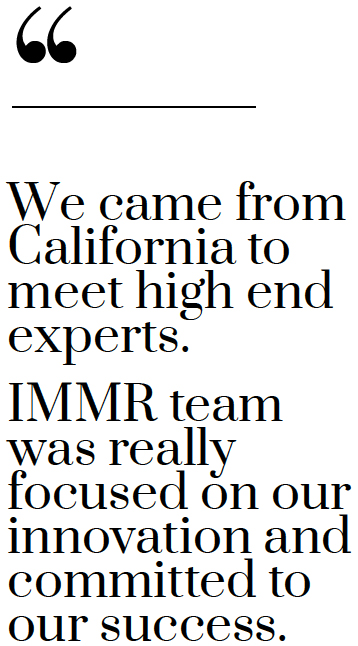 ACCELERATING
YOUR INNOVATIVE RESEARCH
IMMR is a world-class, market leader in the design and conduct of MedTech and Biotech preclinical studies in large models. Its in-house expertise and state-of-the-art, FDA-inspected and validated facilities are unparalleled for successfully completing sophisticated studies with novel interventional or surgical technologies.
While we are perhaps most well-known for our world-leading expertise in complex cardiovascular procedures, we also have broad experience and capabilities across multiple non-cardiovascular disease areas as well.
IMMR's unique, highly efficient and full service approach saves money and reduces time to market with studies that are carefully planned, expertly conducted to the highest ethical standards and professionally documented. We excel in procedures ranging from early feasibility studies through to GLP studies to support worldwide regulatory approvals.
IMMR'S TEAM CAN ENSURE LOW PROCEDURAL AND POST-PROCEDURAL COMPLICATIONS AND HIGH SUCCESS RATES THANKS TO:
Direct oversight and performance of procedures by experienced veterinary surgeons
IMMR's team of professionals with more than 30 years of shared experience
A team that has demonstrated success partnering with more than 80 clients from 15 countries over the last 2 years
A state-of-the-art facility with 5 operating rooms including 2 hybrid ORs, endoscopy and videoscopy towers, cardiopulmonary bypass machines and sophisticated imaging including CT and intracardiac ultrasound
A fully-equipped husbandry facility that allows IMMR veterinarians to select the appropriate models, to provide exceptional medical care and to perform sophisticated monitoring of the subjects
In-house pathology services that provide both gross and histological evaluation for your studies
In addition, IMMR has conferencing facilities and communications capabilities for on-site and remote, real-time, interactive procedure observation, allowing virtual participation by additional members of your team and for training and demonstration purposes.