Full dedication and expertise for your project.
WE ACCOMPANY YOU
from early stage proof of concept to regulatory GLP studies for the FDA, cFDA or Notified Bodies. We help you with study design, model selection, protocol writing, medical device performance evaluation, pathology (macroscopic and microscopic evaluation), regulatory dossiers… A fully comprehensive and relevant integrated chain of services, convenient for you: one-stop shop for a higher efficiency, reducing time to market and costs for your medical device product development.

We perform open surgery, interventional procedures, diverse device implantations, imaging and pathology (including histopathology of soft, metal and hard tissue) to lead your very innovative technology to the next levels.
High efficiency to reduce time to market & costs.
WE BELIEVE
that the early stage is key for the development of medical innovation, and early R&D projects are those which require flexibility and immaculate attention to detail.
We bring you our consultative expertise, and we maintain strict procedures to insure that the confidentiality of your technology, results and intellectual property always remains safe. IMMR guarantees complete service, with rigor, adaptability and on-time performance. Our team is trained to manage unexpected events that are often encountered in early studies. We are client-oriented, efficient and work with passion and commitment on your innovation. IMMR works with many American, European, Chinese and Israeli companies that perform their core R&D studies with us because of our unique capabilities and approach.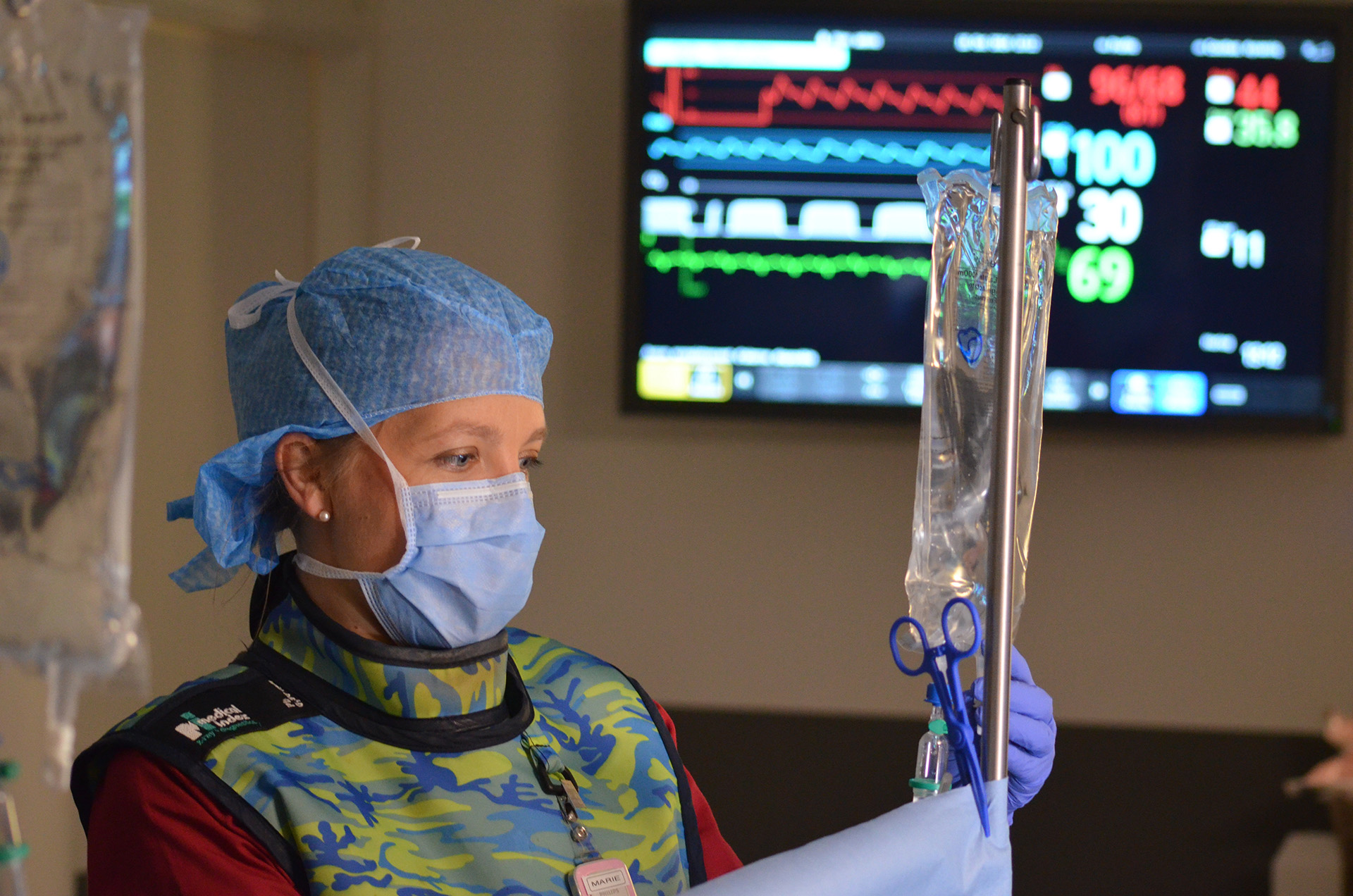 Pristine data under constant scrutiny of
our quality assurance system.
IMMR
has all the authorizations from and is fully accredited by the relevant French regulatory institutions in order to conduct research in large models, and we are FDA inspected and validated.

Our institutional Animal Care and Use Committee insures that studies performed at our facility are conducted in compliance with the Guide for the Care and Use of Laboratory Animals and in accordance with European Community recommendations.

More advanced studies and those intended to support regulatory submissions are performed according to Good Laboratory Practices (21 CFR part 58). As required, those include the use of written protocols, standard operating procedures, calibrated equipment, accredited large model facilities, study conduct by skilled and trained personnel, and proper data tracking, biostatistics and preparation of formal study reports.

Quality assurance remains of paramount importance in our daily work. Our technical expertise in the operating room is necessary but not sufficient for our clients' success. Our clients need compelling and enduring results. Achieving these requires pristine data that are collected and subject to constant scrutiny, verification, validation, interpretation and archiving in conjunction with a robust quality assurance system. We follow Good Laboratory Practices to ensure that our work conforms to the highest professional standards in preclinical research.
Expert in-house macroscopic assessment
and histologic evaluation.
IMMR is committed to being a world-leading,
science-driven center of excellence in medical and biotechnology preclinical research. As part of the assessment of the safety, performance and efficacy of a new biomaterial or device, the Pathology Department of IMMR offers an integrated, comprehensive, state-of-the-art and GLP-compliant portfolio of services that includes sample processing, evaluation, interpretation and reporting.

Pathology is an essential component of the evaluation of device safety and performance in preclinical research and has a central position in regulatory guidance documents (ISO 10993, ASTM International, EMEA guidelines and FDA recommendations). Macroscopic and microscopic evaluation performed in a carefully selected large model provides critical information regarding biological responses to a medical device or biomaterial.

At IMMR, we strive for excellence and high quality in all our client-oriented services. We offer pathology services that include both expert macroscopic as well as histologic evaluation. As with all of our services, we are committed to delivering your results in a timely and cost-effective manner.

Protocol design, macroscopic assessment and tissue sampling are performed by pathology professionals in close collaboration with the surgeons. Histopathological observations are thus evaluated in the context of clinical outcomes, imaging data and macroscopic findings at the time of explantation so that they can be interpreted in a comprehensive and integrated manner.

Our pathology staff have many years of hands-on experience and provide reliable and skilled services in a manner that is responsive to our clients' needs.

In addition to routine histology of paraffin-embedded tissue samples with standard or special staining and immunohistochemistry, the IMMR Pathology Department also carries out resin sectioning for medical devices and hard tissues.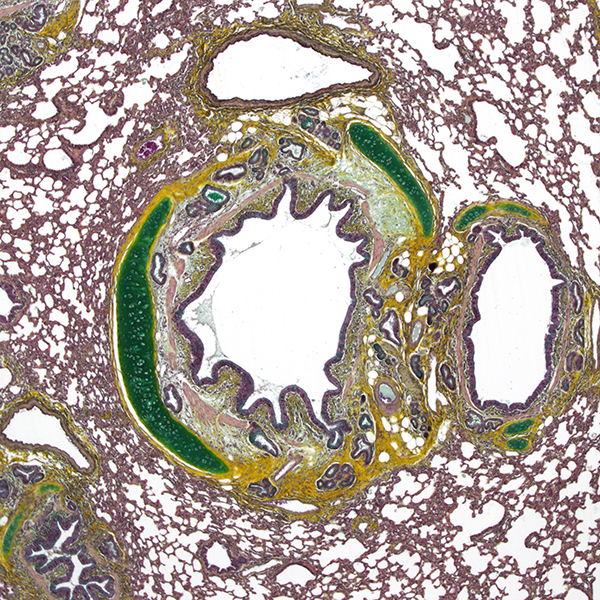 Necropsy services
Necropsies and macroscopic evaluation are supervised by a certified senior veterinary pathologist.

General Histology Services
We offer the following routine histology services:
• Paraffin embedding and sectioning
• Routine HE&S staining
• Frozen Sectioning
• Special Stains

Applications:
• Cusps from prosthetic valves
• Soft devices or biomaterials (vascular conduits, artificial ureters, bladder, surgical sealants, patches etc.)
• Target/distant organs (kidney, liver, lung or brain) for the assessment of systemic effects

Special stains are very useful in the qualitative assessment of histological sections, and complement HE&S as they specifically stain some components of normal or pathological tissues. We developed routine panels of special stains for cusps of prosthetic valves, cartilage, biomaterials or other tissues.

Immunohistochemistry
Specific immunolabelling is a very valuable ancillary method to visualize and quantify cells or tissue components. We perform immunohistochemistry for endothelial cells, collagen fibers, smooth muscle cells, myofibroblasts, or inflammatory cells populations and sub-populations, but we can also develop personalized protocols to fit your needs and end-points.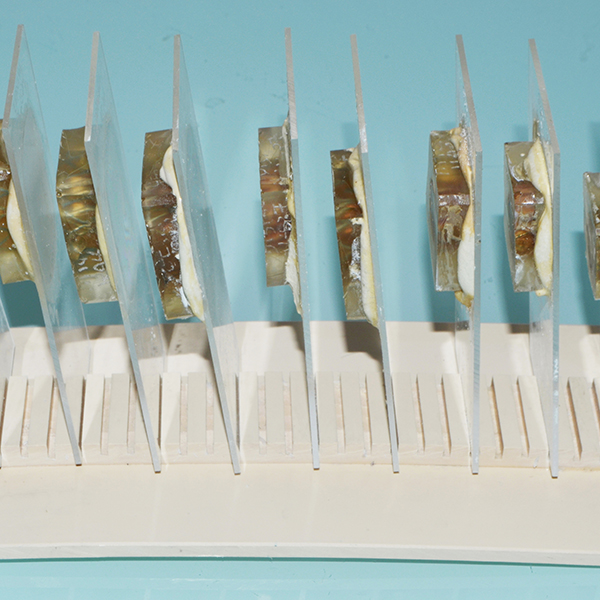 Specialized tissue-implants processing
• MMA resin embedding
• EXAKT® cutting and grinding
• H&E and Masson Trichrome staining of resin sections

This highly-specialized technique is typically used for the evaluation of large and/or hard implants or soft/ hard implants in undecalcified tissues.
It allows to maintain tissue-implant, and therefore to perform an accurate evaluation of the intimate interface between the biomaterial and implanted tissues.

Applications:
• Heart valves
• Metallic stents
• Orthopedic implants
• Artificial cartilage
• Ophthalmic implants
• etc.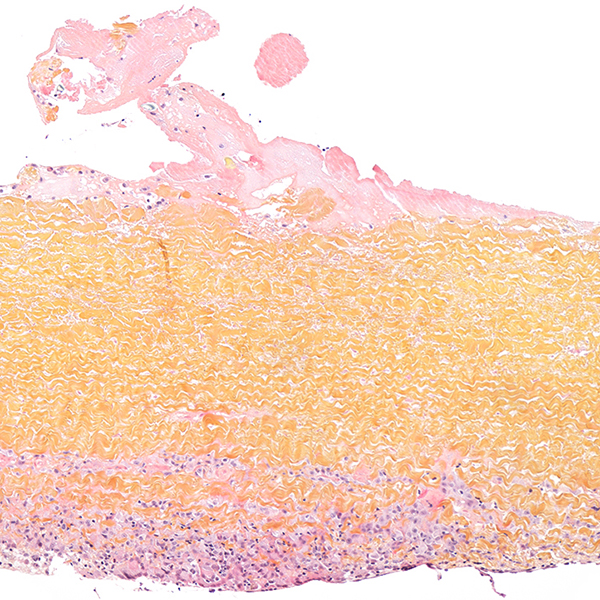 Whole slide imaging
We can take over the digitalization of histological slides permanent archiving, telepathology or quantitative measurements.

Histopathological evaluation
The microscopic evaluation of your study will be performed by certified, experienced veterinary pathologists.
The study pathologist will qualitatively describe and interpret the microscopic findings with regard to the study endpoints, using international histological guidelines. A semi-quantitative score of severity with predetermined criteria will be applied. These criteria are defined to meet the specific aims of your study.
The pathologist will also take remarkable microphotographs of representative findings from the study that are suitable for regulatory purposes and for publishing.

Histopathological evaluations are conducted according to internal standard operating procedures and to current highest professional and scientific standards in the spirit of ISO10993-Part 6: Test for Local Effects after Implantation. All evaluations can be conducted in compliance with Good Laboratory Practice (GLP) and audited by the Quality Insurance Unit of IMMR.

Morphometry
Quantitative parameters (fibrous pannus thickness, remnants of the implanted biodegradable material, bone-implant contact or vessel stenosis etc.) can be measured on histological sections with professional software. We use dedicated protocols for the histomorphometric evaluation of heart valves, stents, bone reconstruction, dental implants.
But we will also apply customized measurements to fit your specific needs.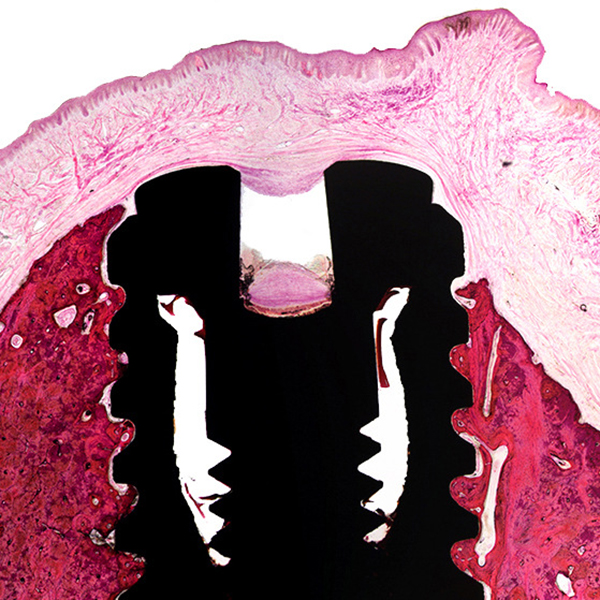 Pathology reporting
Our hallmark is clear, didactic and richly illustrated reports with annotated pictures.

The histopathology report includes:
• Narrative description of microscopic changes
• Qualitative and semi-quantitative assessment of microscopic changes
• Individual data from all large models
• Annotated representative microphotographs on a power point presentation
• Histomorphometry data

In addition
• The images can be professionally edited for publication-ready submission
• An oral presentation of the pathological data and scientific discussion with the study pathologist and other members of the scientific staff can be organized upon request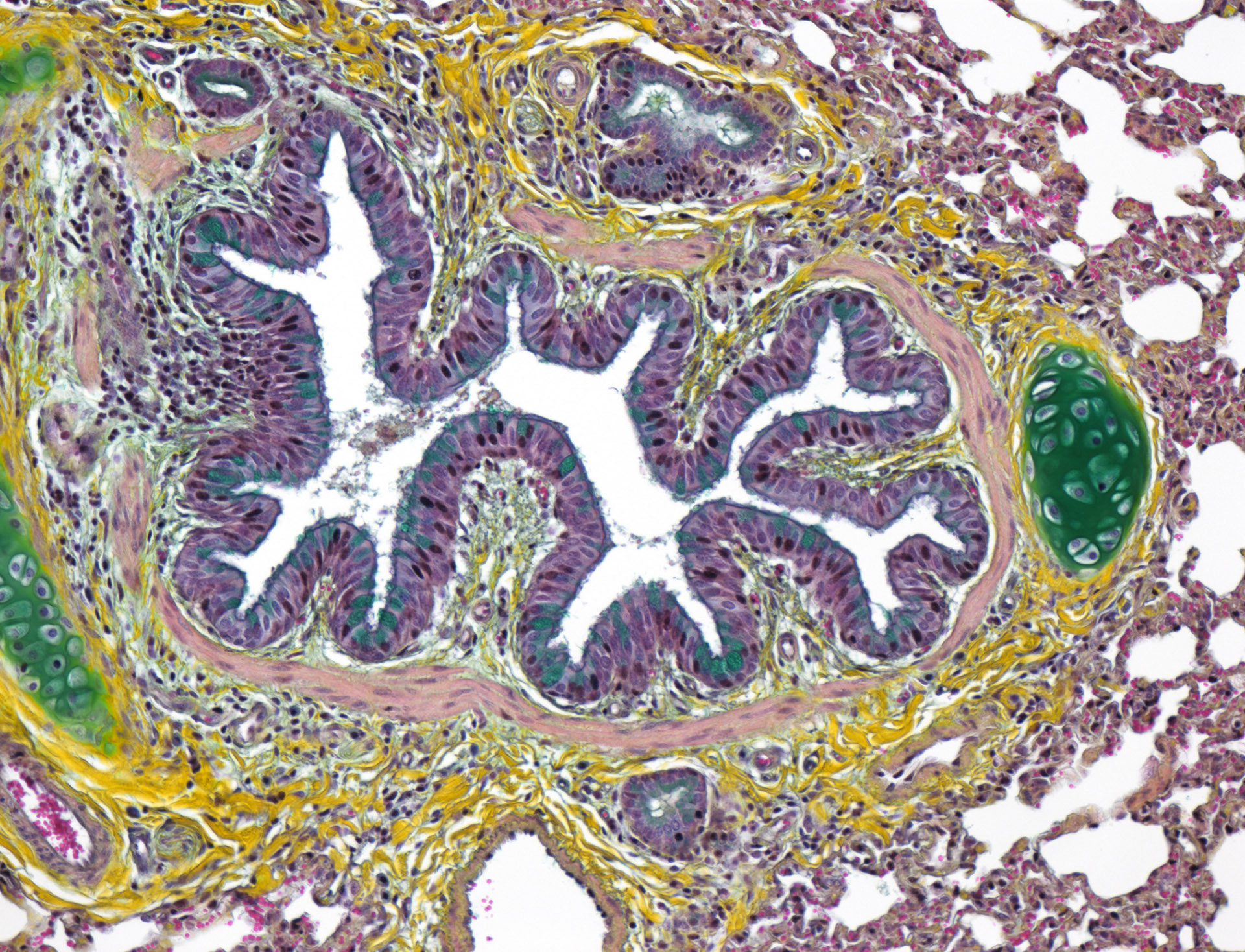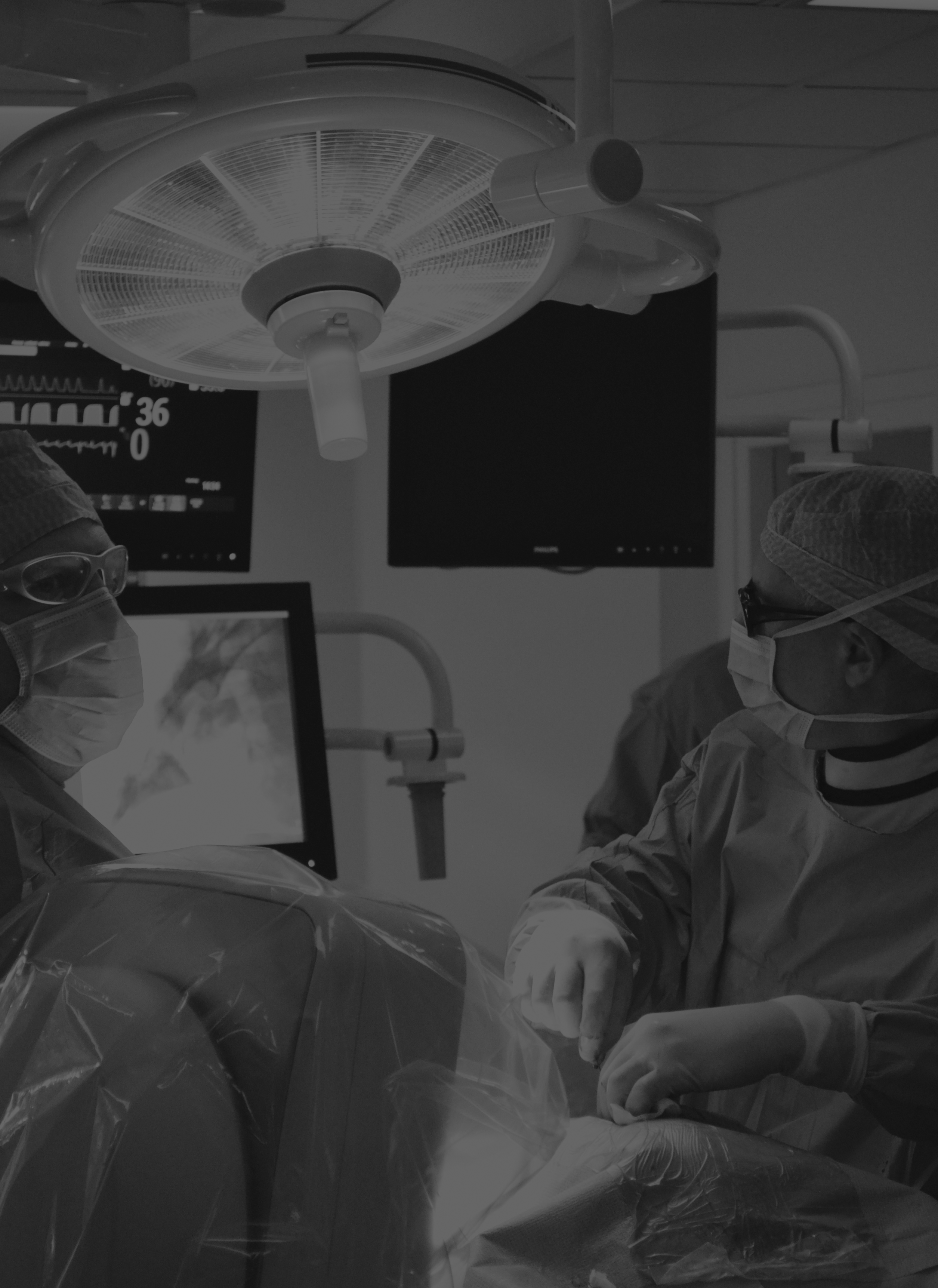 SURGICAL & PHYSICIAN TRAINING

2>
BE IT FOR INVESTIGATORS,
clinicians or sales representatives, surgical training is a must for novel medical devices and biotechnology. Paris is an ideal and central hub location for this critical activity.

At IMMR, we can dedicate up to 5 operating suites simultaneously to training sessions that are tailored to the specific needs of our clients. We have the state-of-the-art and fully-equipped technical platforms that are encountered in the hospital setting, thus providing a familiar environment and experience that can be applied to clinical use.
Our research center has been fully refurbished, providing an attractive and comfortable environment for productive training events.

We can provide complete service with:

• Lecture halls and classrooms for teaching sessions (up to 150 seats)
• Operating suites for hands-on surgical procedures and wet labs
• Video communications capabilities for observation from adjacent conference rooms and/or remote locations
• Event-planning assistance, administrative support for arranging hotel accommodations, taxi or limousine service, and fine catering or VIP lunch if you request


Our team is focused on providing you with the ability to plan and conduct a comprehensive, successful training session for your investigators, customers salespeople and other guests. We would be very happy to welcome you!