Week of 23 February 2021
answer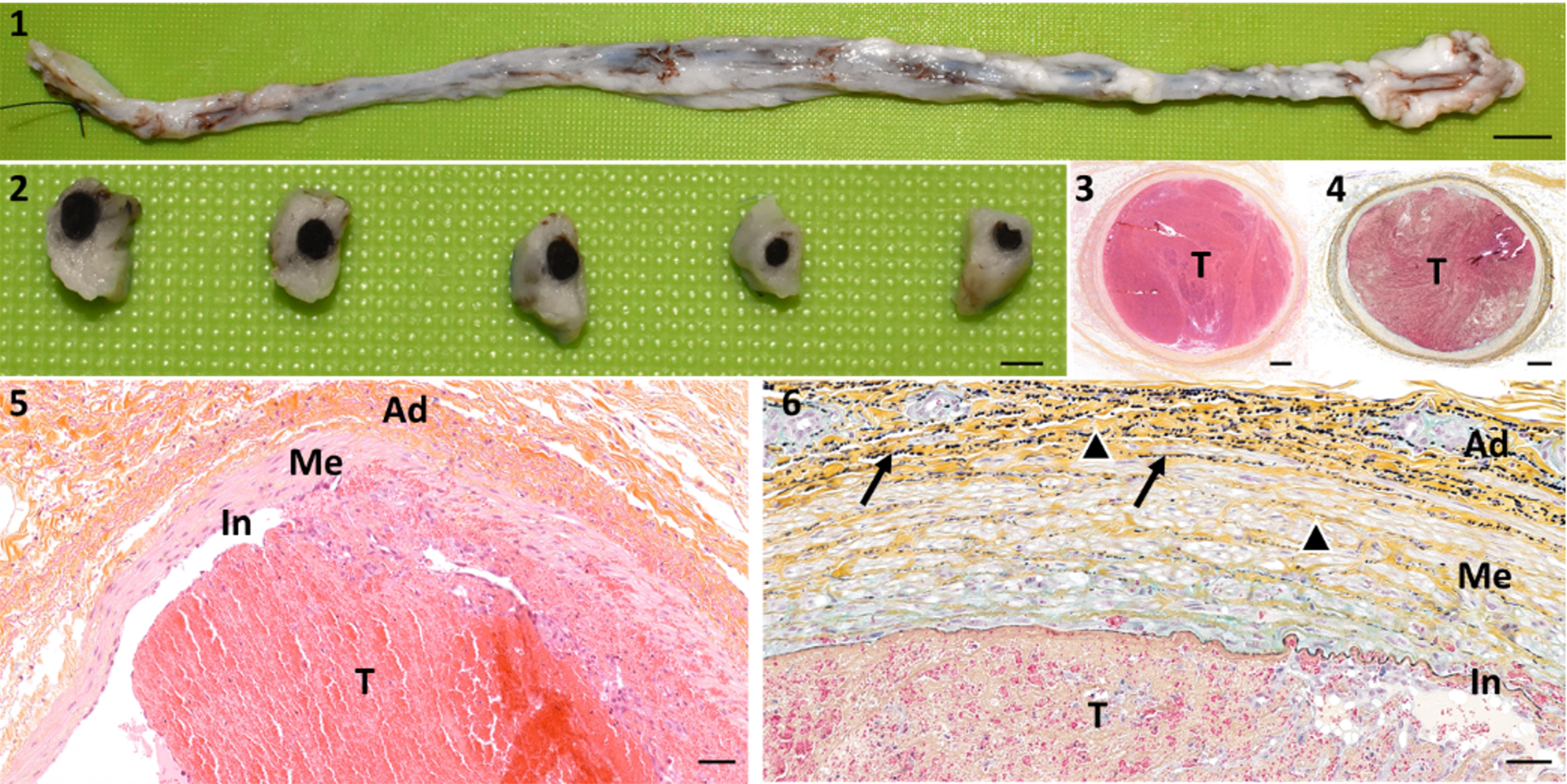 This vein was obstructed by a thrombus!
This is an example of a vein in a sheep that is completely obstructed by a large thrombus.
Histopathological analysis is the gold standard method to assess thrombosis in organs and tissues that are downstream in the blood flow from the site of medical interventions or device implants. Using the Movat Pentachrome stain technique allows an extensive histologic analysis, especially of the cardiovascular system. Among others, it highlights fibrin, elastic fibers (black arrows) and fibrous tissue (black arrowheads).
Macroscopic view at trimming, scale bar: 1cm.
Macroscopic view after transversal sections, scale bar: 0.25 cm.
HE&S, original magnification: x2, scale bar: 250 µm.
Movat Pentachrome, original magnification: x10, scale bar: 100 µm.
HE&S, original magnification: x20, scale bar: 50 µm.
Movat Pentachrome, original magnification: x20, scale bar: 50 µm.
T: Thrombus, In: Intima, Me: Media, Ad: Adventitia, black arrows: elastic fibers, black arrowheads: fibrous tissue.
This specialty staining technique is one example from the comprehensive suite of Pathology Services offered by IMMR's in-house team of Board-certified Veterinary Pathologists.
Contact us to learn more and discuss your preclinical research and pathology needs.
Follow us on LinkedIn and don't miss new images from our library that we post every Tuesday, when you'll have another chance to recognize, identify or diagnose what is shown. You can also stay updated on some of the latest developments in Preclinical Science. Stay tuned!