Week of 13 July 2021
answer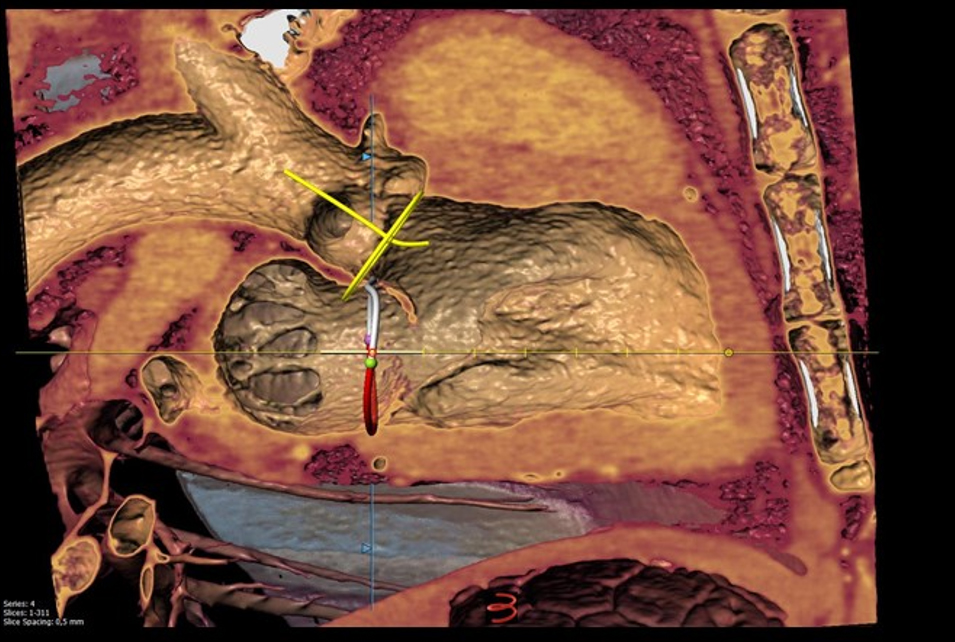 The aortomitral angulation is being measured with the use of computerized tomography (CT) imaging with 3D reconstruction.
Minimally invasive, transcatheter mitral valve replacement (TMVR) relies heavily on pre-procedural planning to insure good outcomes. CT represents a key imaging modality for evaluating the complex 3-dimensional anatomy of the aortomitral region, providing invaluable information for TMVR procedural planning. The aortomitral angle, determined by measuring the interior angle created by the intersection of a virtual plane drawn through the mitral and aortic annuli, is associated with increasing risk of left ventricular outflow tract obstruction after TMVR as this angle becomes more acute. Therefore, careful assessment of aortomitral geometry using sophisticated cross-sectional imaging such as CT is of central importance.
These images were acquired using IMMR's Brilliance 64-slice gated CT scanner by Philips with 3mensio 3D reconstruction software. This system is invaluable in cardiac and pulmonary imaging applications, among many others.
Contact us to learn more and discuss your preclinical research and pathology needs.
Follow us on LinkedIn and don't miss new images from our library that we post every Tuesday, when you'll have another chance to recognize, identify or diagnose what is shown. You can also stay updated on some of the latest developments in Preclinical Science. Stay tuned!