Week of 11 May 2021
answer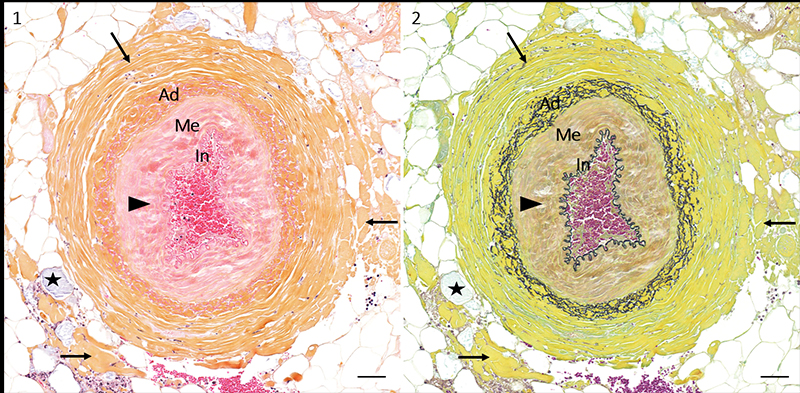 Application of heat generated the collateral damage observable in this artery!
Necrosis (arrowheads) is observed throughout the media (Me) of this artery. Hyalinization of the collagen (arrows) is noted in the adventitia (Ad) due to collagen denaturation. Necrosis with mineralization (star) is also observed in the adipose tissue. These types of lesions are related to thermal damage.
Safety evaluation is critical in the assessment of local reactions to treatment interventions as well as potential collateral damage. Histopathology evaluation by medical device pathologists is the gold standard for such assessment.

1: HE&S, original magnification: x20, scale bar: 50 µm.
2: Movat Pentachrome, original magnification: x20, scale bar: 50 µm.
In: Intima. Me: Media. Ad: Adventitia. Arrowhead: Necrosis of the media. Arrow: Hyalinization of collagen. Star: Cytosteatonecrosis.
This histopathology image is one example from the comprehensive suite of Pathology Services offered by IMMR's in-house team of Board-certified Veterinary Pathologists.
Contact us to learn more and discuss your preclinical research and pathology needs.
Follow us on LinkedIn and don't miss new images from our library that we post every Tuesday, when you'll have another chance to recognize, identify or diagnose what is shown. You can also stay updated on some of the latest developments in Preclinical Science. Stay tuned!